More than 150 countries celebrate World Food Day every year on October 16, the anniversary of the founding of the United Nations Food and Agriculture Organization. World Food Day aims to heighten public awareness of the world food problem and to promote cooperation in the struggle against hunger, malnutrition, and poverty. It has been observed since 1981 with different themes each year, such as "United against Hunger" and "The Right to Food." What was the theme of the first World Food Day?
Discuss

A few weeks before Abraham Lincoln was elected president of the US, 11-year-old Grace Bedell sent him a letter urging him to grow a beard to win over voters. Bedell claimed that "all the ladies like whiskers" and would urge their husbands to vote for a bearded Lincoln. Days later, Lincoln drafted a noncommittal response in which he wondered whether such a change in appearance would be well received. Within months, he was sporting his now-iconic beard. What did he say when he later met Bedell?
Discuss

Though she is now 27 years old and has kids of her own, Jessica McClure is still known to most Americans as "Baby Jessica." At 18 months old, McClure fell into an 8-inch (20-cm) wide well in Midland, Texas. The 58-hour rescue effort captivated the country. For those few days, in the words of US President Ronald Reagan, "everybody in America became godfathers and godmothers of Jessica." Donations poured in from those moved by the child's plight. What were the physical ramifications of her ordeal?
Discuss

Michael Bond first introduced Paddington Bear to the world in his 1958 children's book
A Bear Called Paddington
. Paddington, a polite immigrant bear from Darkest Peru, is taken in by the Brown family after they find him in a London train station. A variety of books feature the well-meaning bear, whose adventures have sold more than 30 million copies worldwide. An award-winning TV show helped the series retain its popularity well into the 1990s. What inspired Brown to create Paddington?
Discuss

An English nurse, Cavell was working to improve the nursing standards at a Brussels hospital when World War I broke out. After Germany occupied Belgium, she became involved with an underground group that helped about 200 Allied soldiers escape to the Netherlands. In 1915, she was arrested by the German occupation authorities and court-martialed. Despite diplomatic pressure on Germany, she was executed and became a celebrated martyr of the Allies. What reportedly went wrong at the execution?
Discuss

The ancient city of Aleppo was besieged twice by Crusaders in the early 12th century, but little did residents know that worse was yet to come. Located on the boundary between the Arabian and African geologic plates in what is now northern Syria, the city was hit by a small earthquake on October 10, 1138, prompting some residents to flee. The next day, Aleppo was rocked by one of the deadliest earthquakes in recorded history. It destroyed the city and the nearby Crusader citadel. How many died?
Discuss

In 661 CE, the first Islamic dynasty rose to prominence and sought to extend its power. The Muslims, seeking control of Aquitaine, were met by Charles Martel's Frankish forces, who were able to halt them at the Battle of Tours. It was not a decisive victory, but the Arabs retreated after their leader was killed, and some historians deem it a watershed moment in preserving Christianity in Europe. The battle greatly enhanced Martel's prestige at the time. What nickname was bestowed on him?
Discuss

One of the highest dams in the world, the Vaiont Dam was constructed on the Vaiont River about 60 mi (100 km) north of Venice, Italy. Two years after its completion, a massive landslide fell into its reservoir, causing the stored water to spill over the dam, sweeping away the village of Longarone and flooding several nearby towns. Some 2,000 people drowned. The dam itself surprisingly remained intact. In 2008, who cited the disaster as one of five "cautionary tales" for engineers and geologists?
Discuss

Self-taught engineer Percy Spencer discovered the cooking potential of microwaves in the 1940s. While working on magnetrons for the Raytheon Company, he noticed that a peanut butter chocolate bar in his pocket had melted. He determined that microwaves emitted from his magnetrons had cooked the candy bar and confirmed this theory by testing it on popcorn. Raytheon patented Spencer's microwave oven in 1945 and put it on the market in 1947. What was the first food to explode in a microwave?
Discuss

Anna Politkovskaya was a Russian journalist and human rights activist well known for her opposition to the Russian government's role in the Chechen conflict and her criticism of Russian President Vladimir Putin, notably in her book
Putin's Russia
. Her controversial work sparked numerous death threats against her, and she was shot to death in an elevator in her apartment building on October 7, 2006. Her murder, which remains unsolved, coincided with what other occasion?
Discuss

Tensions between Israel and the surrounding Arab states have existed since the establishment of the former in 1948 and have come to a head in several armed conflicts over the years. In 1973, on the Jewish holiday of Yom Kippur—which fell during the Muslim holy month of Ramadan—Egyptian troops attacked Israel across the Suez Canal while Syrian forces advanced from the north. Though caught off guard, Israel managed to repel the attacks. Why might attacking on this day have been a tactical mistake?
Discuss

In 1920s Britain, airships were envisioned as a way to make the most remote parts of the British Empire accessible. Two starkly different teams of engineers were employed to create two crafts for passenger travel, one conservative and one more experimental. However, British use of airships effectively ended when the ambitious R101 crashed in France during its maiden overseas voyage, killing 48 people—12 more than the infamous Hindenburg disaster. What was R101's destination?
Discuss

On the night of October 4, 1918, an explosion rocked the T.A. Gillespie Company's ammunition plant in Sayreville, New Jersey, one of the largest such plants in the world at the time. The blast triggered a series of explosions, which continued for three days, killing 100 people. Sayreville and nearby South Amboy and Perth Amboy were evacuated, displacing about 62,000 people who thus became more vulnerable to the catastrophic flu epidemic of 1918. What remnant of the accident was found in 2007?
Discuss

After meeting on a cruise ship in 1959, illusionist Siegfried Fischbacher and exotic animal enthusiast Roy Horn formed a magic act and incorporated exotic animals—most famously big cats—into their shows. They performed thousands of times without major incident until 10 years ago—coincidentally Horn's 59th birthday. It was then that Horn was bitten on the neck by a seven-year-old male tiger named Montecore during a performance. What did Horn reportedly say before being taken to the hospital?
Discuss

Just 10 days before Mexico City hosted the 1968 Summer Olympics, government forces opened fire on student and civilian protesters gathered in a plaza in the Tlatelolco section of the city. The official government explanation was that students provoked the army's violence by firing at them from the buildings surrounding the plaza and that only four people had been killed. Investigations were thwarted until Vicente Fox became president in 2000. What is now believed to have happened that day?
Discuss

Siemens AG is Europe's largest engineering conglomerate. It was originally founded to build telegraph installations, but under Werner Siemens and his three brothers, it expanded to produce cables, telephones, electric power, and electric lighting. The company built the first long-distance telegraph line in Europe, followed by the monumental Indo-European telegraph line that stretched from Calcutta, India, to London, England. What scandal tainted the company's reputation in the 1940s?
Discuss

Merck's COX-2 selective nonsteroidal anti-inflammatory drug Vioxx (rofecoxib) was approved for use in the US in 1999 and remained on the market for just five years before being pulled due to concerns that it could raise the risk of heart attack and stroke. By that time, some 80 million people worldwide had taken the drug, primarily to treat osteoarthritis, acute pain, and dysmenorrhea. Before long, the drugmaker found itself facing thousands of lawsuits. How much did it earmark for settlements?
Discuss

Zola had an ardent zeal for social reform. His part in the Dreyfus Affair, notably his 1898 article "J'accuse," was his most conspicuous public action and earned him the animosity of the anti-Dreyfus party. Prosecuted for libel, he escaped to England, where he remained until an amnesty enabled his return to France. A couple of years later, he died suddenly under suspicious circumstances, overcome by carbon-monoxide fumes in his sleep. Was it just a tragic accident or something more sinister?
Discuss

In 1520, Cabrillo, an explorer in the service of Spain, landed in Mexico and joined in the conquests of Mexico and Guatemala. Some 20 years later, he accompanied an expedition up the west coast of Mexico, assuming its command after the death of its original commander. He then proceeded to explore much of the coast of what is now the state of California, becoming the first European to do so. How far north did he get before complications from a broken bone, possibly gangrene, took his life?
Discuss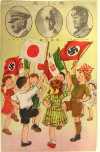 The World War II alliance of Germany, Italy, and Japan was fully realized in September 1940, with the signing of the Tripartite Pact. The agreement called for the Axis Powers to come to each other's aid if attacked by a nation not already involved in the European War or the Sino-Japanese Conflict and to assist one another in their efforts to "establish and maintain a new order of things"—Germany and Italy in Europe and Japan in Greater East Asia. How did the treaty get the nickname "Roberto"?
Discuss